If you're a seasoned gardener or just a novice, wanna be gardener, our gardening products will give you the cutting edge advantage you need to grow a beautiful, green garden full of delicious, healthy, non-GMO food for you and those you love.  All of our seeds are fresh, naturally grown and 100% open pollinated by nature.
Take a look at what we've put together for you and then order with confidence because we unconditionally guarantee your 100% satisfaction with every order or your money back.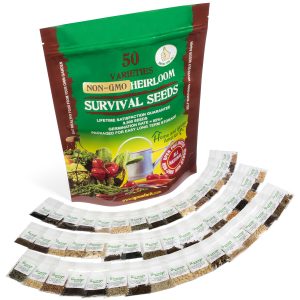 Heirloom Seeds Non-GMO Vegetable Seed Kit – 50 Varieties – Best For Planting Sprouting and Gardening Non Hybrid Food For Emergency Doomsday Survival Preparedness – Beginners Can Easily Grow A Garden
CLEAR LABELING AND HONEST SEED COUNT – Our seed packs are clearly labeled. Seed counts equal or exceed our stated number.

HEIRLOOM SEEDS NON GMO GIVE YOU FREE SEEDS EVERY YEAR FROM YOUR OWN PLANTS – Gardening essentials like zucchini, tomato, cucumber, cauliflower, pepper and 45 other nongmo varieties. Prepper, Mini-Farming, Square Foot Gardening or home gardener planting survival vegetables, this vault is perfect.

NATURALLY GROWN – HIGHLY RATED – Heritage types producing thousands of plants for variety, storage & delicious taste.

EASY TO STORE AND GROW: Scan Our Bonus 33-page Downloadable Planting Guide Right Into Your iPhone or Android for Easy Access in the Garden. Full Color pictures of mature produce along with soil temp, plant spacing, depth, companion plants, non-compatible plants and much more.

WORLD CLASS CUSTOMER CARE AND YOUR MONEY BACK if you're not 100% delighted with your seeds and the results you get.